When considering a tube bender you might often hear reference to a 'stacked tube bender' or 'stacked tooling' but what does it mean? Do you need it for your application and what benefits, if any, does stacked tooling provide? In the photo above we see a good example of a tooling "stack."
What Stacked Tooling is:
Stacked Tooling refers to stacking multiple bending tools (Wiper, Pressure and Clamping Dies, as well as the Radius Die Block) one on top of another. Not any tube bender can be a 'stacked bender', the machine must be designed to incorporate not only the additional tooling but the shifting of positions of the mandrel and workpiece (tube) up and down the stack as necessary.
Benefits of Stacked Tooling:
The benefit to this feature is that since the bending dies control the radius of the tube being bent having multiple dies allows for a job with multiple radii to be completed in one setup better improving part accuracy and reducing material handling.
Do you need Stacked Tooling for your application?:
Your application is specific and typically if you are dealing with bending tubing you are dealing with multiple radii necessary to be formed in that tubing. Having a machine capable of stacked tooling can save you many hours in material handling, reduces worker fatigue and reduces scrap as the machine completely handles the tube throughout the bending and changeover process. Further, the cycle time to complete a forming project on a stacked bender is greatly reduced improving overall profitability.
Find CNC Tube Benders for Sale:
Click on the picture below for a link to just some of our available stacked tube benders.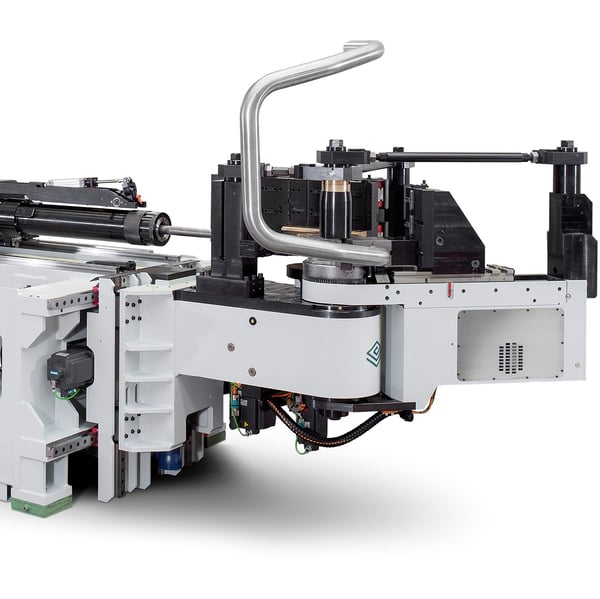 Southern Fabricating Machinery Sales, Inc. are experts in tube bending and can assist you in making the right choice between a stacked tube bender, a single tooled bender and angle roll or any of the other various ways used to bend and form tubing. Your application is unique and so should your approach to it be.  Contact them today at 813-444-4555 and ask to speak to their tube bending products manager.